The 1st international drawing competition has been closed and we are pleased to announce the realization of the "Mahayana 2022" calendar. Support our fundraising initiative by purchasing your copy.
We would like to thank everyone for participating, this calendar would never have been possible without your cooperation.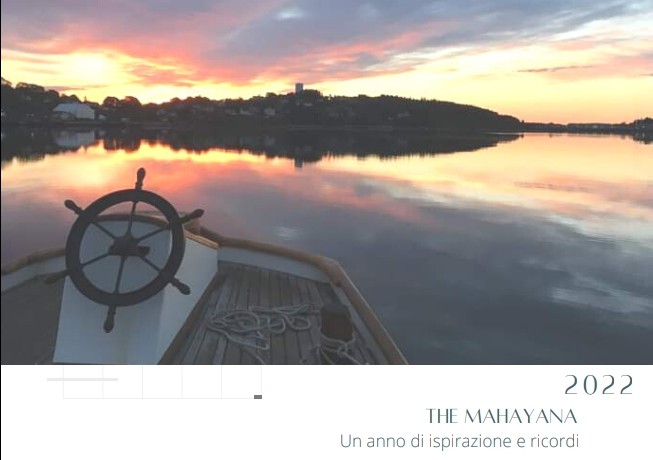 Dear supporter
This year we present the "Mahayana 2022" calendar. The calendar is the result of the fundraising campaign that began in May with the opening of the association's first international drawing competition. It was a success since there have been countless adhesions of both adults and children, not only from various Italian regions but even beyond the Italian territorial borders—truly international. After all, the seas are everyone's concern!
The main subject of the calendar is the "Mahayana", our beautiful schooner
The jury was asked to examine the works according to the communicative ability of the images and their relevance to the central theme of the contest, other than that, no other requirements were expressed in the regulations of the competition. Consequently, we had the privilege to engage members of the association Tuttigiuperterra, a cooperative that works in the field of autism, with two of submissions published in the calendar.
We have available both the printed and the online version of the calendar. For our overseas supporters we suggest the pdf version of the calendar in order to reduce the cost and the impact of shipping. You can then decide whether to print it at your local department store (i.e. Walmart, Staples, Target) or simply save it on your desktop and make it interactive (instructions to do so will be sent along with the pdf file).
Enjoy a preview of the Calendar by following the link under the picture
Cost: 10€ (+ shipping for the printed version)
To request your copy, contact us at the email address:  The Blue Dreamers
Send your tax deductible donation via Paypal at the above email
Or wire tranfer at the following:
IBAN IT12W0200805212000106139948 
SWIFT: UNCRITM1713
Payee: Francesco Nanni Reason of Payment: Calendar Mahayana 2022 
The PDF will be sent as soon as we confirm the payment.
Thank you for your support,
Geraldine and Melissa
Contacts
Mobile: Melissa: 377 2782 004 Geraldine: 349 0672 694